Diego Aceña Moreno - biography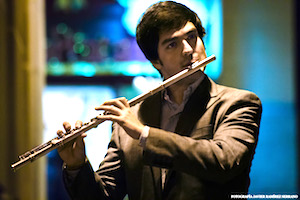 Diego Aceña was born in Madrid (Spain) in 1988, and began studying flute at the age of seven. After completing an undergraduate degree at the Aragón Music Conservatoire (Spain), where he graduated with distinction, he went onto study at the Royal College of Music, London. There he earned a Master in Orchestral Performance, supported by an RCM Scholarship, the Leverhulme Orchestral Mentorship Scholarship and Madrid Music Award, and graduated with Distinction and having won the Flute Prize of in 2013. Shortly after finishing his studies he was selected as Academist at the world-renown Staaskapelle Dresden. His teachers to date have included Jaime Martín, Sue Thomas, Gareth Davies, Stewart McIlwham, Christopher Green, Antonio Nuez and Fernando Gómez, and he has played in masterclasses with Sabine Kittel, Rozalia Szabo, Chiara Tonelli, Peter Luckas Graf, Sir James Galway, Michel Debost, Emily Beynon and Vicens Prats among others.
Diego is an active orchestral musician, currently holding the Stell. Solo Fute Chair in the Staastorchestra Kassel in Germany. He regularly plays with orchestras such as the Staatskapelle Dresden, Mahler Chamber Orchestra, Spanish National Orchestra, Dresdner Philarmonie, Essener Philarmoniker, London Philarmonic Orchestra, Wales National Opera and Orchestra of the State of Madrid, and has been a member of several youth orchestras including the Gustav Mahler Jungendorchester (GMJO), Gustav Mahler Academy, the Schleswig Holstein Music Festival Orchestral Academy (SHMF) and Madrid Youth Orchestra and Chorus (JORCAM).
In addition to his orchestral experience Diego has won a number of prizes, including Third Prize in the British Flute Society Young Artist Competition 2013 and the All Flute Plus Prize in the RCM Senior Woodwind Competition 2013. In 2015 the Kirckman Concert Society invited him to perform as soloist at Wigmore Hall in London. In 2014 he also performed as a soloist the Magic Flute Dances by the British composer Jonathan Dove with the Little Chamber Orchestra in London, and in the summer of 2016 he played the Branderburg Concerto No.5 and the Orchestral Suite in B minor BWV 1067 with the Gustav Mahler Academy in Bolzano, Italy.
As a keen chamber player he has also played recitals and concerts in venues such as Semper Oper Dresden, Victoria and Albert Museum, Ateneo de Madrid, Royal Festival Hall, Purcell Room, St Martin in the Fields, Elgar Room at the Royal Albert Hall, Amarillys Fleming Concert Hall and Teatro del Canal de Madrid. He is a former member of the Cataleya Quintet, Park Lane Group Artists 2013/2014, and has recorded and performed live for the Spanish National Radio (RNE) on several occasions.