Sally Beamish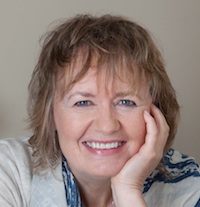 Sally Beamish, composer.
Sally Beamish was born in London. Initially a viola player, she moved from London to Scotland in 1990 to develop her career as a composer. Her music embraces many influences: particularly jazz and Scottish traditional music. The concerto form is a continuing inspiration, and she has written for many soloists, including Tabea Zimmermann, Håkan Hardenberger and Steven Isserlis.
Sally's music is performed and broadcast internationally, and since 1999 she has been championed by the BIS label, who have recorded much of her work. Recent commissions include 'Dance Variations': Percussion Concerto No 2, for percussionist Colin Currie, with the Bergen Symphony Orchestra, Scottish and Swedish Chamber Orchestras, and Stanford Lively Arts, California. Her string quartet for the Elias Quartet, 'Reed Stanzas', received its premiere at the 2011 BBC Proms, and won a Royal Philharmonic Society Award.
Sally's new concerto for Scottish fiddle and harp, 'Seavaigers', was premiered in Glasgow, at Celtic Connections 2012, and has just been recorded by Chris Stout, Catriona McKay and the Scottish Ensemble for release to coincide with a tour in 2014. It will also be featured at the International Harp Congress in Sydney.
In February 2012 Sally was BBC Radio 3 Composer of the Week; and in July that year, Branford Marsalis premiered her new sonata, 'Albatross', at the World Saxophone Congress in St Andrews, with the composer at the piano. They gave a repeat performance in September 2013 at the RCS. This summer, Beamish's music was featured at festivals in Orkney, Swaledale, Lincoln, Presteigne, the Lake District and Corbridge.
The Britten centenary year of 2013 was a prolific period for the composer, with several Britten-related commissions and world premières. Her 'Variations on a Theme of Benjamin Britten' was premiered by the Academy of Saint Martin in the Fields; and Ursula Smith commissioned 'Suite for Solo Cello', in memory of Kevin McRae. Beamish's opera with Clara Glynn, 'Hagar in the Wilderness', was premiered at the Presteigne Festival and has toured England and Scotland.

A new work for the Scottish Chamber Orchestra, 'Flodden', to commemorate the 500th anniversary of the Battle of Flodden, was premiered in September 2013, with soprano Shuna Scott Sendall, and shortlisted for a Royal Philharmonic Society Award. The Trusler Carroll Wass Piano Trio have recorded Beamish's 'Seafarer Trio' with narrator Sir Willard White for Orchid Classics, alongside her new arrangement of Debussy's 'La Mer', for piano trio, to be released later this year.
Beamish's 'Spinal Chords', one of the PRS 20x12 Olympic commissions, with text by The Times Journalist Melanie Reid, toured the UK in 2014 with the Orchestra of the Age of Enlightenment and narrator Juliet Stevenson; and has also been narrated by the composer on several occasions.
The composer is working with poet Sir Andrew Motion on a joint commission from the London Symphony Orchestra and Royal Scottish National Orchestra, 'Equal Voices', to mark the centenary of the start of the First World War in 2014. Further into the future, the Birmingham Royal Ballet has commissioned a full-length ballet for 2016.
Sally Beamish is the recipient of an honorary doctorate from the University of Glasgow, a Creative Scotland award, and the Paul Hamlyn Award. She is also a visiting lecturer at Leeds College of Music.