Thomas Bowes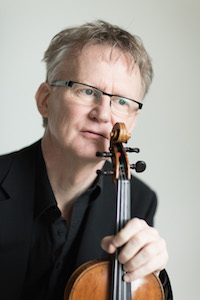 Thomas Bowes continues to grow a reputation as an unusual and insightful musician.  His career as a violinist has encompassed the widest range of roles and he revels in the diversity of a richly varied musical life.   He has a growing reputation as a concerto soloist with a deep connection to the works of Elgar, Walton, Britten and Szymanowski; he has led a major string quartet, concert-mastered many major orchestras and now has a reputation as a much credited and sought after concert-master and soloist in the film world.
His work as artistic director of two somewhat unusual festivals has received great critical acclaim.
In May and June of 2013 he undertook a 'Bach Pilgrimage', playing fifty concerts of the unaccompanied Sonatas and Partitas of JS Bach in churches all over mainland Britain and raising well over £20,000 for various charities.  He is at present recording the works for release in 2015 and planning a second 'Pilgrimage' in Europe.  
Tom's 2011 CD release of concertos by Walton and Barber (Signum Classics) has received widespread acclaim, the Walton being top CD recommendation for BBC Radio 3's 'Building a Library' in October 2013.  He had spent time on Ischia at Lady Walton's invitation, studying the work and its history in 2004.
"Bowes yields to none of the Walton's great interpreters – Heifetz (the dedicatee), Menuhin, Franccscatti, Chung, Kennedy…" Hugh Canning, The Sunday Times, May 2011.
He has played the Elgar concerto in the USA and Germany as well as in the UK.  Playing the Britten concerto, he made a dramatic German debut with the Bremen Philharmonic in 2004 stepping in at less than 24 hours notice.
Tom has excelled with the sensual and still little played Szymanowski concertos, making a specially recorded broadcast of No.2 for the BBC Proms in 1998.  An enthusiastic champion of contemporary music, he premiered the first concerto of Eleanor Alberga with the Scottish Chamber Orchestra and Joseph Swensen to a flourish of rave reviews in 2001. The work was an SCO commission.  A second Alberga concerto is planned for the 2016/17 season.
Tom has worked closely with many of today's most eminent film composers in the London recording studios, - Alexandre Desplat, John Debney, Danny Elfman, George Fenton, James Horner, Alberto Iglesias, Thomas Newman, James Newton Howard, Howard Shore, Alan Silvestri, Gabriel Yared and Hans Zimmer – and among numerous film credits are such movies as "Skyfall", "The King's Speech" , "The Da Vinci Code", "The Hunger Games" and "Avengers Assembly".
Born in Hertfordshire, England and graduating from the masterclass of Bela Katona at Trinity College of Music, Tom joined the London Philharmonic in 1985 and a year later the Academy of St Martin in the Fields. In 1987 he gave his London recital debut and between 1988 and1992 was the founding leader of the Maggini String Quartet.  In 1989 he was invited to become the leader of the London Mozart Players, making a BBC Proms debut with them in 1991.
Forming, in 1995, the duo "Double Exposure" with his wife, the composer and pianist Eleanor Alberga, he toured regularly and extensively in the USA until 2000. Double Exposure made a ground breaking trip to five Chinese cities in 1997 as well as broadcasting and concertising in the UK. The repertoire was adventurous and featured commissions and first performances from a host of US and UK composers. A New York recital at Carnegie in 2000 was tellingly reviewed by the distinguished writer Paul Griffiths in the New York Times.
In 2003 Tom became the Artistic Director of the Langvad Chamber Music Jamboree in northern Denmark and more recently with Eleanor Alberga founded the music festival Arcadia in north Herefordshire England. Both events are attempts to bring honest and vibrant music making to local communities and to steer away from the formulaic, both for participants and listeners alike. Tom is lucky to play a splendid 1659 Nicolo Amati violin.