Eleanor Alberga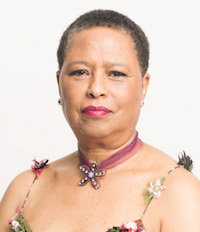 "It is rare, in the etiolated world of contemporary music, for a composer to be called back to the stage three times by an enthusiastic audience after the first performance of a work.  But that was the reception accorded Eleanor Alberga…(at) the premiere of her new violin concerto."
The Times, December 01.
Eleanor Alberga has established herself in the mainstream of British contemporary music and enjoys an international reputation as a composer.  Her music has been performed by many leading orchestras, including the London Philharmonic, Royal Philharmonic, Bournemouth Sinfonietta, London Mozart Players and the Women's Philharmonic of San Francisco, and worldwide performances include USA, Australia, South America, Canada, Europe and China. In 2001 she was awarded a prestigious NESTA Fellowship for composition.
Alberga's route to composition has not been an orthodox one. Born in Kingston, Jamaica, she began her musical career deciding, at the age of five, to be a concert pianist, and also started composing short pieces for herself aged 10.  In 1970 she won the biennial Associated Board Scholarship as a pianist, supporting her studies at the Royal Academy of Music, London.  Here, she studied piano with Denis Murdoch and singing with May Blythe. She won many awards, including the McFarren Gold Medal, the highest award for pianists at the Royal Academy. She was pianist of the Alberga Piano Trio which won the Harold Craxton Prize for chamber music.  She was among the 3 finalists (1975) in the International Piano Concerto Competition in Dudley, UK.
In 1978 she started work with the London Contemporary Dance Theatre where she discovered a deep love for and commitment to composing.  She toured extensively with LCDT as pianist, composer, and later as conductor and Musical Director.  
As well as solo piano recitals, chamber music and concertos, she has toured world-wide as a duo with her husband, the violinist, Thomas Bowes, including recitals at the Carnegie hall and the Berlin Philharmonie.  Venues as a soloist include the Royal Albert Hall, Queen Elizabeth Hall, Covent Garden Opera House (where she was piano concerto soloist with the orchestra of the ROH), and Purcell Room.
At various times a member of the Jamaican Folk Singers, and dancer with an African dance company, she draws from a richly diverse musical background. Drama is an integral component of her compositions which are often described as tremendously exciting, atmospheric and accessible.  
Alberga's many commissions encompass orchestral works as well as a wide range of solo and chamber music.  Her dramatic adaptation of Roald Dahl's Snow White and the Seven Dwarves,  scored for large symphony orchestra, received its premiere at the Royal Festival Hall in 1994 with Franz Welser Möst and the LPO, and widespread praise included David Lister, The Independent: "rich, colourful, atmospheric and often downright alarming".
In October 2009 her first opera LETTERS OF A LOVE BETRAYED, commissioned by the Royal Opera House and Music Theatre Wales was premiered at the Royal Opera House Linbury Theatre with Mary Plazas in the lead role:-
"…the character of Analia. As we watch, we feel for her, we suffer with her, we rejoice.  Dramatic spotlighting in this way seems to make parallels with Berg's Wozzeck." - Seen and heard International, Colin Clarke.  
"The musical thread is delicate, finely woven and utterly compelling.  The composer has found a structure of her own, atonal but at the same time offering the warmth of harmony, with vocal lines that are perfect for singing. ….Above all, the evening belonged to the music.  One may encounter a new work that impresses by its invention and cleverness, but how often is one moved at first hearing, or even at second or third, by the humanity of the music….This is a remarkably beautiful work, remarkable not simply because it is the composer's first opera, but because it draws one so sensitively into a world of believable emotion …but deriving genuinely from the condition humane." - Musical Opinion, Michael Freyhan.
Alberga's Snow White and the Seven Dwarfs, setting the Roald Dahl rhyme, was released on the Orchid Classics label in November 2011. She recently completed a flexible ensemble work for COMA.  A horn quintet was premiered at the Arcadia Festival in October 2012, and she is now working on the 2nd violin concerto for her husband and a solo piano work for choreographer Robert Cohan which she will perform along with the Bach-Busoni Chaconne.  She performs Prokofiev's 3rd piano concerto in November with the Charnwood Orchestra.
Alberga was commissioned to write Arise Athena! for the 2015 Proms. Click here for a video of the first performance.