Victoria Swensen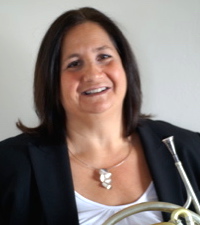 Victoria Swensen has an extensive career as a hornist. She has held long-term principal french horn positions with the Stamford Symphony (1984-1996), the Chamber Orchestra of New York (1985-1992) and Solisti New York (1982-1990). She has also made frequent appearances with the Orpheus Chamber Orchestra (at Carnegie Hall, on tour, and on recordings for Deutsche Grammophon Records), the Orchestra of St. Luke's, the New York City Ballet, the Metropolitan Opera, the New York City Opera, and in numerous Broadway musical productions.
In the fall of 2012, Ms. Swensen appeared as soloist with the Windham Symphony Orchestra, performing Benjamin Britten's Serenade for Tenor, Horn and String Orchestra.
She has participated in the summer festivals of Marlboro, Aspen and Norfolk and in addition to her recordings for Deutsche Grammophon, she has also recorded for Sony Classical and the Marlboro Recording Society.
She is the Founder and Executive Director of Habitat4Music. Habitat4Music is a non-profit organization committed to providing subsidized, participatory music education to under served children taught by graduate students of major universities and music conservatories.
She received her Masters degree from The Juilliard School and her Bachelor of Fine Arts degree from the Purchase College Conservatory of Music.
Victoria Swensen was born on December 21,1959. She grew up in New York City and currently resides in Bloomington, Indiana and New York City. She is the proud mother of three children.