Hugh Webb - Biography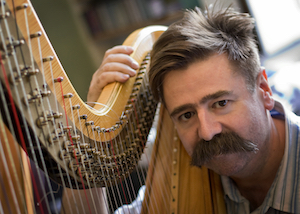 Hugh has worked extensively in the contemporary music field and Javier Alvarez, Robert Keeley, Paul Archbold and Ian Dearden have all written solo works for him, with funding from The Arts Council of England. Classical CD recordings include Bax's Concerto for Flute, Oboe and Harp with the Academy of St. Martin's Chamber Ensemble (Chandos), a collection of Bach Flute Sonatas (Guild), Villalobos' Quartet (Clarinet Classics), Bax's Fantasy Sonata (Koch International) and the complete Spohr Violin and Harp Sonatas (Naxos).  His most recent recordings are a CD of French Renaissance songs with the medieval group, Joglaresa and a recording of solo and chamber music by Nino Rota for Zitto Records.  From 2001 to 2012, Hugh Webb was principal harp of the Philharmonia Orchestra and now freelances as guest principal of the major London orchestras and is active in the film and television music worlds. 
Hugh has composed a show for children based on Hans Christian Anderson's The Snow Queen. 
"…filigree or glitter, arpeggios or runs, virtuosity or sheer feeling, Webb is master of them all."   
Gramophone