Clare Finnimore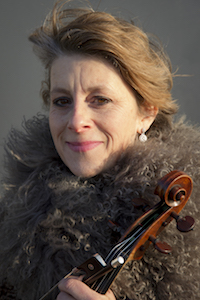 Clare Finnimore is principal viola of Britten Sinfonia. She grew up in Letchworth, North Hertfordshire, where after hearing a professional string quartet perform at her primary school she was inspired to begin studying violin with the quartet's leader, Anne MacNaughton. As a result, and thanks to County Music Service, Clare's early musical life was one immersed in chamber music playing. She went on to study with David Takeno at the Guildhall School of Music & Drama, where she was awarded the Birdie Warshaw Prize for Unaccompanied Bach and the School Viola Prize.
While still a student she co-founded and was principal viola in the Guildhall String Ensemble, coached by David Takeno. The group, who were international prize-winners, toured worldwide for the next 20 years, making their Carnegie Hall Debut in 1991. They appeared on BBC TV's 'Blue Peter' and 'Omnibus', made numerous CD recordings for RCA Red Seal and were heard frequently on BBC Radio 3.
'Ulysses Awakes' for solo viola and strings by John Woolrich was written for and premiered by Clare and the Guildhall String Ensemble. She has performed it many times.
As soloist, Clare has performed at the Aldeburgh, Brighton and Malvern festivals, at the Wigmore Hall , throughout Spain and the USA. She stepped up as soloist at a few hours' notice to perform Flos Campi by Vaughan Williams with Britten Sinfonia at London's Milton Court. The concert was broadcast live on BBC Radio 3. Also with Britten Sinfonia she recently performed Schubert's Arpeggione Sonata, arranged for viola and strings by Dobrinka Tabakova.
Clare has a regular chamber group – Britten Oboe Quartet – with oboist Nicholas Daniel, violinist Jacqueline Shave and cellist Caroline Dearnley, which performs regularly at Festivals around the UK and has recently recorded its debut album for Hyperion USA.
She has also played as guest with the Aronovitz Ensemble, the ‪Nash Ensemble and performed alongside Steven Isserlis in Bloch's Piano Quintet at the IMS, Prussia Cove, Cornwall.
As a session musician Clare is proud to be one of about 90 musicians on the soundtracks to films such as Tinker, Tailor, Soldier, Spy; The Hobbit and James Bond '‪Skyfall'. She has played live with Sting, ‪Bjork, ‪Kylie Minogue, ‪Florence and the Machine and also ‪Kiki Dee and Carmelo Luggeri.
Clare teaches violin and viola and is Professor of Chamber Music for Senior Strings at Saffron Centre for Young Musicians.
Her viola is 'unknown', possibly Italian or Flemish, dated 1685.