Joanna MacGregor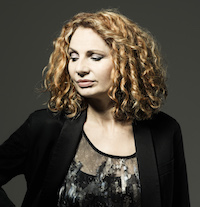 Joanna MacGregor is one of the world's most innovative musicians, appearing as a concert pianist, curator and collaborator. Head of Piano at the Royal Academy of Music and Professor of the University of London, Joanna is also known as an artistic director of festivals and concerts series, including Bath International Music Festival and Dartington International Summer School.
As a solo artist Joanna has performed in over eighty countries and appeared with many eminent conductors — Pierre Boulez, Sir Colin Davis, Valery Gergiev, Sir Simon Rattle and Michael Tilson Thomas amongst them — and many orchestras, including the London Symphony and Sydney Symphony Orchestras; the Chicago, Melbourne and Oslo Philharmonic Orchestras; the Berlin Symphony and the Salzburg Camerata. She has premiered many landmark compositions by composers ranging from Sir Harrison Birtwistle and Django Bates to John Adams and James MacMillan. She performs regularly at major venues throughout the world, including the Wigmore Hall, Southbank Centre and Barbican in London, the Sydney Opera House, the Leipzig Gewandhaus, the Concertgebouw in Amsterdam and the Mozarteum in Salzburg.
Joanna directed the multi-arts festival Deloitte Ignite 2010 at the Royal Opera House which included many new art commissions, including a year-long installation by the remarkable artist Alice Anderson. She was Artistic Director of the Bath International Music Festival between 2006 and 2012, and Artistic Advisor for Aventure+, a Luxembourg Philharmonie orchestral series in 2012–13. She was appointed Artistic Director of Dartington International Summer School & Festival in 2015, and directs an annual Summer Piano Festival at the Royal Academy of Music.
As a recording artist Joanna is a veteran of over thirty solo recordings, ranging from Bach and Scarlatti to jazz and John Cage. Her own record label SoundCircus was founded in 1998 and has released many highly successful recordings, including the Mercury Prize-nominated Play and Neural Circuits, featuring Schnittke's Concerto for Piano and Strings and music by Nitin Sawhney. Other acclaimed releases include Bach's Goldberg Variations (recorded at the Mozarteum in Salzburg), Live in Buenos Aires, a four-CD Messiaen set, and the complete Chopin Mazurkas. Jazz recordings include Sidewalk Dances — music by the New York street musician Moondog — and Deep River, music inspired by the Deep South, with saxophonist Andy Sheppard.
Links
- Behind the scenes: Joanna MacGregor Radio programme about Joanna MacGregor
- BBC programme which explores the Goldberg Variations