Patrick Kiernan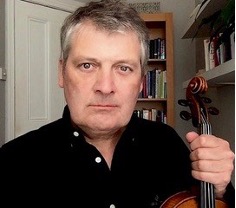 Patrick Kiernan graduated from the Royal College of Music in 1984, where he had spent four years studying with Frances Mason.
In !983, while leading his own quartet in Summer masterclasses at the Britten-Pears School at Aldeburgh, he had met the violinist Jaqueline Shave. Together they formed the Brindisi Quartet.
Mentored at Aldeburgh by Hugh Maguire and William Pleeth, and receiving training from the Lasalle, Prague and Guarneri Quartets, the Brindisi enjoyed a distinguished 20 year performing career.
Popular in the UK with audiences at Wigmore Hall, Aldeburgh Festival and in regular broadcasts on BBC Radio 3, they also toured and broadcast frequently in Germany, Switzerland, France and Holland. Recording projects featured Gramophone Award nominations for the complete quartets of Frank Bridge, and for a collection of quartets by Schoenberg, Webern and Berg.
In the 1980s and 90s Patrick was a member of the Academy of Saint Martin in the Fields, and of the London Sinfonietta. It was in these ensembles that he first met his three colleagues for this Arcadia festival. In recent years Patrick has mostly worked in London as a studio session musician, playing on many films and TV programmes as well as countless pop-music tracks. He is also a member of the quartet Trans4mation which accompanies the legendary jazz saxophonist, Jon Surman, in major jazz festivals throughout Europe.
He continues to guest with numerous chamber-music groups and is always most at home in a string quartet. Patrick plays on a late 18th century Cremonese violin attributed, in part at least, to Ceruti.