Hugh Webb - Biography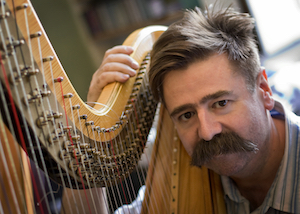 Hugh has worked extensively in the contemporary music field and Javier Alvarez, Robert Keeley, Paul Archbold and Ian Dearden have all written solo works for him, with funding from The Arts Council of England. Classical CD recordings include Bax's Concerto for Flute, Oboe and Harp with the Academy of St. Martin's Chamber Ensemble (Chandos), a collection of Bach Flute Sonatas (Guild), Villalobos' Quartet (Clarinet Classics), Bax's Fantasy Sonata (Koch International) and the complete Spohr Violin and Harp Sonatas (Naxos). His most recent recordings are a CD of French Renaissance songs with the medieval group, Joglaresa and a recording of solo and chamber music by Nino Rota for Zitto Records. From 2001 to 2012, Hugh Webb was principal harp of the Philharmonia Orchestra and now freelances as guest principal of the major London orchestras and active in the film and television music worlds.
From 2001-2012 he was principal harp of the Philharmonia Orchestra and since then he regularly freelances as guest principal harp with the RPO, LSO and the BBC Symphony Orchestra. He is a founder member of the John Wilson Orchestra with whom he has appeared in many proms, tours and CD recordings. Other Proms this year include performances with the LSO and the Scottish Chamber Orchestra. Hugh also enjoys composing and he has written a children's show based on The Snow Queen which toured throughout Britain. His solo and chamber music works are played by harpists all over the world and his music has been featured at the World Harp Congress in Amsterdam. He is currently writing a flute, viola and harp trio to be premiered at Kings Place, London in January 2018. He has taught harp at the Guildhall, Royal College and Royal Academy as well as classes at the Sweelinck and Hague conservatories in Holland. Hugh is also busy in the commercial recording world in London and has played on the soundtracks for many films and television series as well as working with many great jazz artists- the latest being an album with Gregory Porter to be released this Christmas. Hugh first worked with Eleanor in a production of Moliere's Le Bourgeois Gentilhomme at the National Theatre in 1992 and he played in a tour of her opera,Letters of a Love Betrayed with Music theatre Wales in 2009.
"…filigree or glitter, arpeggios or runs, virtuosity or sheer feeling, Webb is master of them all."
Gramophone